Omaha Students Study Dance with World Class Instructors From Alvin Ailey American Dance Theater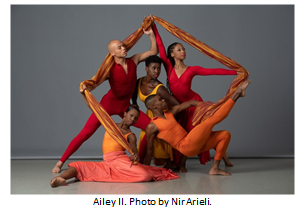 Omaha Performing Arts' Programming and Education Department is excited to host teaching artists from Ailey Arts In Education & Community Programs during a special Revelations residency October 28 to November 1, 2019. More than 150 students and teachers will participate in a five-day residency sponsored by the Nebraska Arts Council and Nebraska Cultural Endowment.
Master teacher and former Ailey Company member Nasha Thomas and Ailey's Arts In Education Teaching Artists will lead students in Revelations: An Interdisciplinary Approach. The curriculum-based residency utilizes Alvin Ailey's signature masterpiece, Revelations, as an inspiring theme for an in-depth study in language arts, social studies and dance. Students actively engage in the process of thinking, reflecting, creating, writing and performing. Through this residency students learn discipline, self-esteem, creativity and how to express their uniqueness. Teachers will also participate in a professional development workshop led by Nasha Thomas and Ailey's Teaching Artists, where they'll receive curriculum and other resources to take back to their schools.
"This residency furthers our mission at Omaha Performing Arts to provide access to arts education opportunities within the community," said Kathleen Lawler Hustead, Associate Director of Education at Omaha Performing Arts. "We are excited to connect Nebraska students with the Ailey Arts In Education Teaching Artists, as well as allowing them the opportunity to dive into a monumental work like Revelations."
Choreographed by founder Alvin Ailey in 1960, Revelations, an American masterpiece acclaimed as a must-see for all, has been seen by more people worldwide than any other modern dance work. Following participation in the residency, each student will attend a matinee performance by Ailey II, the second company, on Friday, November 15 at the Orpheum Theater at 10:30 AM.
The residency activities will be held on the following dates and locations:
Monday, October 28
• Holland Performing Arts Center – professional development workshop for teachers
• Omaha South High Magnet – master class for students
Tuesday, October 29 – November 1

• Beveridge Magnet Middle School – dance class for students
• Lewis and Clark Middle School – dance class for students
Friday, November 15

Orpheum Theater – student matinee performance by Ailey II
*this matinee performance is open to any K-12 school groups or homeschools. We encourage schools to register here.
Ailey Arts In Education & Community Programs will also hold a Revelations Celebration Community Workshop on Saturday, November 2 from 12:30 – 2:00 PM at the Hope Center for Kids. Families will learn excerpts from the masterpiece, Revelations, conducted by former Ailey company member Nasha Thomas, with live music by an Ailey Arts In Education Musician. The event is free and open to the public. To register for the workshop, visit
o-pa.org
. All ages are welcome! Ailey II will perform at the Orpheum Theater on Friday, November 15 at 7:30 PM. Tickets start at $20. Visit
TicketOmaha.com
, for more information.