OMAHA PERFORMING ARTS ANNOUNCES
TONY AWARD® -WINNER
DEAR EVAN HANSEN
AND THE RETURN OF
LES MISÉRABLES INCLUDED IN
2019/2020 BROADWAY SEASON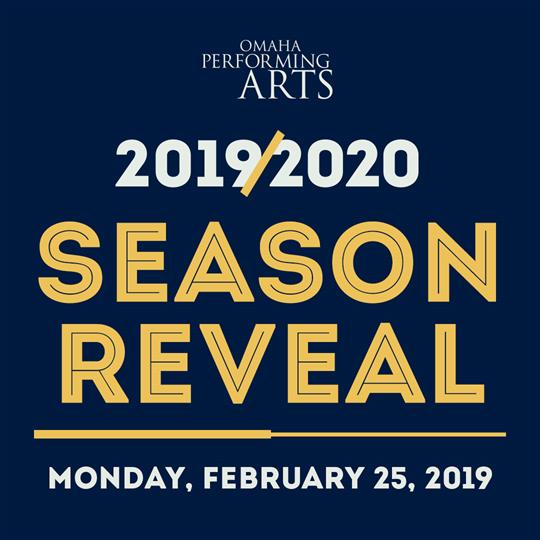 Season highlights also include a four-week return of
Disney's THE LION KING
and Omaha Performing Arts Presents performances,
including Patti LaBelle, Ailey II, Kansas and more.
Omaha Performing Arts
has announced an extraordinary 2019/2020 season of performances and a new Tony Award®-winning Broadway season, featuring four Omaha premieres and several returning favorites.
Omaha Performing Arts President Joan Squires was joined by special guests and performers to share the upcoming performances during a sold-out event FEBRUARY 25, 2019 at the Holland Performing Arts Center. The 2019/2020 season includes the popular Omaha Performing Arts Broadway Season and OPA Presents favorites of Dance, Jazz, Specials, National Geographic Live and 1200 Club.
"This season is spectacular," Squires said. "Our Broadway line-up is filled with some of the most sought-after tickets on Broadway and across the country. The groundbreaking dance performances, up-and-coming jazz musicians and popular artists are among the best touring performances from around the world!"
Season Reveal entertainment included performances from
Disney's THE LION KING
,
DEAR EVAN HANSEN
,
ANASTASIA
, and Omaha jazz legend,
Curly Martin
and friends. Shows in the 2019/2020 season will appear at Omaha's Orpheum Theater and the Holland Performing Arts Center in downtown Omaha. Current season subscribers may begin renewing their season subscription packages immediately at TicketOmaha.com, by calling (402) 345-0606 or in person at the Ticket Omaha Box Office located inside the Holland Performing Arts Center, 1200 Douglas Street. OPA Presents season packages are now available to new subscribers. New Broadway subscriptions go on sale to the public in April. More information is available at OmahaPerformingArts.org.
2019/2020 Season performances include:


2019/2020 Broadway Series

Roald Dahl's CHARLIE AND THE CHOCOLATE FACTORY
November 5-10, 2019 Orpheum Theater | Slosburg Hall

Get ready for Oompa-Loompas, incredible inventions and more in this musical set to Roald Dahl's beloved story of Willie Wonka, the world-famous inventor and candy maker who opens his factory to a few lucky contest winners, including Charlie Bucket. This story incorporates cherished songs of the 1971 film into a brand-new score. Directed by Tony Award-winner Jack O'Brien, this production premiered on London's West End before making its way to Broadway.

JESUS CHRIST SUPERSTAR - December 10-15, 2019
Orpheum Theater | Slosburg Hall

Celebrating its 50th Anniversary, JESUS CHRIST SUPERSTAR includes music by Andrew Lloyd Webber and Tim Rice. The score's classic rock songs "I Don't Know How to Love Him," "Gethsemane" and "Superstar" accompany a completely reworked production telling the story of the last weeks in the life of Jesus Christ as seen through the eyes of Judas.

The London revival was awarded a 2017 Olivier Award for Best Musical Revival.

LES MISÉRABLES - January 14-19, 2020
Orpheum Theater | Slosburg Hall

Direct from its recent Broadway run, LES MISÉRABLES is a story of unrequited love, broken dreams, sacrifice and redemption set in 19th Century France. The production includes unforgettable audience favorites, including "I Dreamed a Dream," "On My Own," "Bring Him Home," and more. Seen by more than 70 million people in 44 countries, LES MISÉRABLES is one of the most celebrated musicals in theatrical history. This production uses new technology and brand-new staging inspired by the paintings of Victor Hugo to tell the Tony Award-winning story.

A BRONX TALE - February 11-16, 2020
Orpheum Theater | Slosburg Hall

This true-life story is based on a one-man Broadway play about a young man in the 1960s caught between the father he loves and the mob boss he'd love to be. The performance blends the music of Oscar, Grammy and Tony Award-winner Alan Menken (LITTLE MERMAID, ALADDIN and NEWSIES) with high energy dance numbers in a moving story of loyalty and friendship.

DEAR EVAN HS- March 17-22, 2020
Orpheum Theater | Slosburg Hall

A letter that was never meant to be seen, a lie that was never meant to be told, a life he never dreamed he could have. Evan Hansen is about to get the one thing he's always wanted: a chance to fit in. DEAR EVAN HANSEN is the personal and profoundly modern musical about life and the way we live it. The book is by Tony Award winner Steven Levenson and a score by Grammy, Tony and Academy Award winner Benj Pasek and Justin Paul. The show won six Tony Awards, including Best Musical, in 2017.

ANASTASIA - June 2-7, 2020
Orpheum Theater | Slosburg Hall

From the twilight of the Russian Empire to Paris in the 1920s, ANASTASIA is the story of a brave young woman who sets out to discover the mystery of her past. Inspired by the beloved film and told through a combination of music, heart and technology, the new musical follows Anya on an adventure to help her find home, love and family.

ANASTASIA is filled with mystery, intrigue, romance and adventure and features a book by playwright Terrence McNally, a new score by Stephen Flaherty and Lynn Ahrens with direction by Darko Tresnjak.
Optional shows can be added to a Broadway season subscription package:
STOMP - February 28-29, 2020
Orpheum Theater | Slosburg Hall

STOMP's eight-member troupe uses everything but a drum during a toe-tapping, inventive and fun performance. Matchboxes, wooden poles, garbage cans and hubcaps fill the stage with magnificent rhythms in this show that just celebrated its 25th Anniversary in New York City.

Disney's THE LION KING - April 15-May 10, 2020
Orpheum Theater | Slosburg Hall

Disney's THE LION KING returns to Omaha for four weeks in 2020. More than 85 million people around the world have experienced the visual artistry, the music and the theatrical storytelling of this Broadway spectacular. Winner of six Tony Awards, including Best Musical, THE LION KING brings together one of the most imaginative creative teams on Broadway. Tony Award-winning director Julie Taymor brings to life a story filled with hope and adventure set against an amazing backdrop of stunning visuals. THE LION KING also features the work of Tony Award-winning choreographer Garth Fagan and some of Broadway's most recognizable music, crafted by Tony Award-winning artists Elton John and Tim Rice.


2019/2020 Dance Series
Ailey II - November 15, 2019
7:30 PM | Orpheum Theater | Slosburg Hall

Ailey II returns to the Orpheum Theater in 2019. Part of the extraordinary Alvin Ailey American Dance Theater, this performance includes one of the company's most iconic dance works, "Revelations." The company will also participate in OPA's 2019 Day of Celebration, which includes youth master classes.

Camille A. Brown & Dancers - February 21, 2020
7:30 PM | Orpheum Theater | Slosburg Hall

A sought-after choreographer, Camille A. Brown's recent work includes the Broadway revival of ONCE ON THIS ISLAND and the April 2018 live television special of JESUS CHRIST SUPERSTAR. Brown's work uses techniques of modern, hip hop, African, Ballet and Tap, instilling reflection in a diverse audience.

Che Malambo - March 12, 2020
7:30 PM | Orpheum Theater | Slosburg Hall

This all-male troupe celebrates the South American tradition of the gaucho (South American Cowboy). Performers blend precision footwork, stomping, drumming in a dueling style modeled after the Malambo, which began in the 17th century as competitions that tested agility, strength and dexterity among the gaucho.


2019/2020 Jazz Series
Eddie Palmieri Afro-Carribbean Jazz Sextet - February 11, 2020
7:30 PM | Holland Center | Kiewit Hall

At 82, jazz pianist Eddie Palmieri continues to innovate his genre. Palmieri was named a Jazz Master by the National Endowment for the Arts—the nation's highest Jazz Honor—in 2013. This performance blends Palmieri's Puerto Rican heritage with jazz influences like Thelonious Monk and Herbie Hancock.

Yellowjackets featuring Luciana Souza - March 13, 2020
7:30 PM | Holland Center | Kiewit Hall

The Yellowjackets return to Omaha after more than a decade. The group blends funk, R&B grooves and upbeat jazz. Their Holland Center performance features smooth and

ARTEMIS - April 9, 2020
7:30 PM | Holland Center | Kiewit Hall
This female supergroup features top performers on today's jazz scene, including Trumpeter Ingrid Jensen, clarinetist Anat Cohen and Saxophonist Melissa Aldana under the direction of Renee Rosnes.


2019/2020 National Geographic Live! Series
Untamed with Filmaker Filipe DeAndrade - March 3, 2020
7:30 PM | Holland Center | Kiewit Hall

Filmmaker Filipe DeAndrade credits animals with saving his life, and in return, he wants to preserve the wild spaces where they live.

Designed by Nature with bioengineer and research diver Kakani Katija - April 14, 2020
7:30 PM | Holland Center | Kiewit Hall

Kakani Katija takes you deep into the midwaters of the ocean – one of the least explored ecosystems on our planet. She shares how its inhabitants could lead to advances in bio-inspired design.

Extreme Cave Diving: Exploring the Bahamas' Blue Holes
with diver and environmental anthropologist Kenny Broad - May 12, 2020
7:30 PM | Holland Center | Kiewit Hall

Voyage into the beautiful but dangerous "blue holes" of the Bahamas! Diver Kenny Broad captures these underwater caves – and potential treasure troves of scientific knowledge – through stunning images and video.


2019/2020 Specials
Kansas 40th Anniversary - October 5, 2019
7:30 PM | Orpheum Theater | Slosburg Hall

Iconic rock band Kansas performs classics like "Carry On Wayward Son," "Dust in the Wind" and many others from their legendary career. For the first time, the band plays their "Point of Know Return" live at the Holland in 2019.

Patti LaBelle – October 18, 2019
7:30 PM | Orpheum Theater | Slosburg Hall

Actress and singer Patti LaBelle is widely regarded as the queen of rock & soul music. She has received acclaim for songs like "Lady Marmalade," "When You Talk About Love," and "New Attitude." LaBelle began her career as part of the Ordettes in 1959, who became The Bluebelles in 1961. Her success as a solo artist started in 1983 when she released her hit album "I'm in Love Again."

"Children of Metropolis" by Scrap Arts Music - October 25, 2019
7:00 PM | Holland Center | Kiewit Hall

Scrap Arts Music uses recycled materials to make music. Performers turn metal, artillery shells, accordion parts and more into instruments in this all-ages performance.

The Four Italian Tenors: Viva Italia! - November 2, 2019
7:30 PM | Holland Center | Kiewit Hall

Direct from Rome, this young Italian ensemble performs classic works with wit, charm and operatic style. The Four Italian Tenors are a new generation of world-class vocal musicians.

Evening with The Piano Guys - November 16, 2019
7:30 PM | Orpheum Theater | Slosburg Hall

The Piano Guys returns to Omaha following a sold-out Orpheum appearance in 2016. From Beethoven to One Direction, their mix of classical, rock and pop inspire audiences from all walks of life.

Drumline Live Holiday Spectacular – November 22, 2019
7:30 PM | Orpheum Theater | Slosburg Hall

The is holiday show takes features all the chart-topping holiday classics, combining Gospel, Jazz, Soul, Motown Rhythms and The Nutcracker Suite with a hip-hop beat and the driving force of a marching band. The production's choreography, costumes, lighting and more are visually stunning.

Joyful Noise: A Gospel Christmas
featuring Salem Baptist Church - December 7-8, 2019
7:30 PM Dec. 7 & 4:00 PM Dec. 8 | Holland Center | Kiewit Hall

Enjoy the harmonious sounds of Omaha's nationally recognized Salem Baptist Church choir! This Christmas tradition returns to the Holland Center with a combination of holiday classics and new music.

Mariachi Herencia de México presents
The Posado: A Christmas Tradition - December 20, 2019
7:30 PM | Orpheum Theater | Slosburg Hall

Celebrate the holidays with Mariachi Herencia de México. Young stars and Latin Grammy nominees take the Orpheum Theater stage to add new energy to traditional holiday music.

Cirque Mechanics: 42FT – A Menagerie of Mechanical Marvels - January 21, 2020
7:00 PM | Orpheum Theater | Slosburg Hall

Step right up! Cirque Mechanics transports us to a 1930s one-ring circus in 42FT – A Menagerie of Mechanical Marvels. The show dazzles with acrobatics, aerialists and a bit of clowning around.

Squirrel Nut Zippers and The Dirty Dozen Brass Band - January 30, 2020
7:30 PM | Holland Center | Kiewit Hall

The Squirrel Nut Zippers joins musical forces with The Dirty Brass Band. The Squirrel Nut Zippers contributed to the swing revival of the 1990s and performed during the 1996 Winter Olympics. In its 40 years of making music, the Dirty Dozen Brass Band has revolutionized the New Orleans brass band style and has become a major influence of the genre. Both groups blend swing, funk, hot jazz and delta blues.

Penguins - March 14, 2020
2:00 PM | Orpheum Theater | Slosburg Hall

Just like other bonded animals at New York's Central Park Zoo, these two male penguins walk, play, swim and dance together. When the duo tries to hatch a rock, a zookeeper gives them an egg instead.

Jeanne Robertson: The Rocking Humor Tour - March 22, 2020
6:00 PM | Holland Center | Kiewit Hall

Humorist Jeanne Robertson continues to charm audiences with witty life stories. The 75-year-old's positively funny style is based on life experiences that appeal to all ages.

A Cappella Live! - April 3, 2020
7:30 PM | Holland Center | Kiewit Hall

Four of the nation's best a cappella acts join forces in this high-energy show! The Filharmonic, Committed, Blake Lewis and Women of the World perform their hits in celebration of the world's first musical art form.

Savion Glover's All FuNKD' Up, The Concert - April 17, 2020
7:30 PM | Holland Center | Kiewit Hall

Tapping marvel Savion Glover brings his moves to back Omaha! The Tony Award®-winner stormed the dance world in the 1980s with his hard-hitting tap. He blends elements of jazz, hip-hop and bebop in wildly entertaining performances.

All subscribers are guaranteed the same seats for each show in their package and receive exclusive subscriber benefits. Tickets for individual shows will go on sale to the general public at later dates. Prices, shows, artists, dates and times are subject to change without notice.
Group tickets are available for reservations with discounts available for most shows. Group minimums and discounts vary per show; please call OPA group sales representative Ryan Rhodes at (402) 661-8516 for more information or to make group reservations.


Ticket Omaha is the OFFICIAL ticket source for the Orpheum Theater and Holland Performing Arts Center. Ticket buyers who purchase tickets from a ticket broker or any third party run the risk of overpaying or purchasing illegitimate tickets and should be aware that Omaha Performing Arts is unable to reprint or replace lost or stolen tickets from these sources and is unable to contact patrons with information regarding time changes or other pertinent updates regarding the performance.