Jan 28, 2019, 16:46 PM by Kelly Bartnick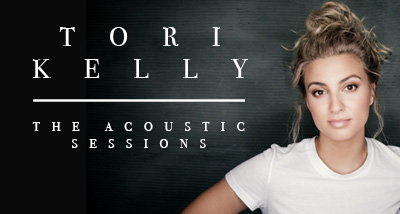 TORI KELLY ANNOUNCES THE ACOUSTIC SESSIONS TOUR
Tori Shares Cover Art For New Single, "Change Your Mind"
"Never Alone" (Feat. Kirk Franklin) Takes No. 1 Spot

On Billboard's Hot Gospel Songs Chart

Tori Is Nominated For Two GRAMMY® Awards
Grammy ® nominee Tori Kelly's The Acoustic Sessions tour is making a stop at Omaha's Holland Performing Arts Center Friday, March 22, 2019 at 8:00 PM. Tickets, starting at $35, go on sale Friday, January 25, 2019 at 10 AM.

Tickets are available at TicketOmaha.com, at the Ticket Omaha* Box Office located inside the Holland Performing Arts Center, 1200 Douglas St. or by calling 402.345.0606.

Kelly will kick off The Acoustic Sessions on February 25 at the Fox Theatre in Tucson. The North American headline tour will include a February 28 concert at the historic Orpheum Theatre in Los Angeles and an April 3 show at Kings Theatre in Brooklyn. See below for itinerary or visit www.torikellymusic.com.

A ticket pre-sale for members of Tori's fan club begin on Tuesday, January 22, at 10:00 AM local time. Tickets go on sale to the public on Friday, January 25, at 10:00 AM local time. The stripped-down acoustic excursion follows Tori's fall 2018 Hiding Place tour, which included sold-out shows in such cities as Los Angeles, San Francisco, Washington, DC, Atlanta and Dallas.

Last week, Tori revealed the title and cover art for her new single, "Change Your Mind," which will be released soon. "Never Alone" (Feat. Kirk Franklin) – the single from her new passion project, Hiding Place – claimed the No. 1 spot on Billboard's Hot Gospel Songs chart last week. Read the Billboard story HERE. Tori is nominated for two GRAMMY Awards – Best Gospel Performance/Song for "Never Alone" and Best Gospel Album for Hiding Place.

Produced by Franklin, a 12-time GRAMMY Award winner, Hiding Place debuted at No. 1 on Billboard's Top Gospel Albums chart, earning more first-week streams than any gospel album in history. Hiding Place also topped Billboard's Gospel Streaming Songs and Gospel Digital Song Sales charts plus the Apple Music Christian genre chart. The collection features guest artists Lecrae, Jonathan McReynolds and The Hamiltones.

Idolator observed, "there was always the sneaking suspicion that the 25-year-old's voice could soar even higher, that she could open her heart even wider. That promise finally comes to fruition on Hiding Place." VIBE noted, "Tori Kelly's talent transcends genres." PEOPLE said, "Tori Kelly Wants Her New Album Hiding Place to Be a Light in the Dark for Fans."

Kelly's 2015 debut album Unbreakable Smile entered the Billboard 200 at No. 2 and contained the Gold-certified singles "Nobody Love," "Should've Been Us" and "Hollow." Hailed as an artist to watch by such publications as Rolling Stone, USA Today and SPIN, she was nominated for a GRAMMY in the Best New Artist category and received the Billboard Women in Music Breakthrough Artist award. Unbreakable Smile has earned more than one billion cumulative streams worldwide and sold 1.3 million adjusted albums.


*Ticket Omaha is the official retail ticket outlet for all performances at the Orpheum Theater and the Holland Performing Arts Center. Tickets purchased from other ticket retailers such as secondary ticket agencies or brokers may be more expensive and may not be valid. Due to the nature of live entertainment, all programs, performers, prices, dates and times are subject to change.