RAY LAMONTAGNE ANNOUNCES NORTH AMERICAN JUST PASSING THROUGH ACOUSTIC TOUR DATES

COMING TO OMAHA'S HOLLAND PERFORMING ARTS CENTER OCTOBER 22, 2018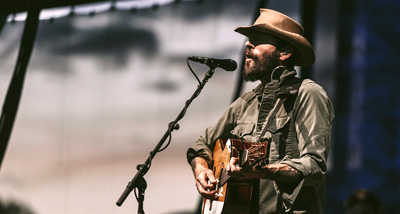 Grammy nominated singer/songwriter Ray LaMontagne comes to Omaha's Holland Performing Arts Center Monday, October 22, 2018 at 7:30 PM. Tickets, starting at $45.00, are available Friday, July 20, 2018 at 12:00 PM at TicketOmaha.com, in person at the Ticket Omaha Box Office inside the Holland Performing Arts Center or by phone at (402) 345-0606.

Omaha is one stop on LaMontagne's 25-date North American Just Passing Through acoustic tour. John Stirratt of Wilco will accompany Ray on bass throughout the tour. The tour kicks off October 7 in Portland, ME and culminates November 18 in Wilkes-Barre, PA. During the tour, LaMontagne will play New York City's legendary Radio City Music Hall on October 10th. The performance marks LaMontagne's return to the historic venue for the first time in 10 years.

Tickets for all tour dates are available to the general public on Friday, July 20th at 12:00 PM local time. For more information on the tour and artist and Spotify pre-sales, please visit www.raylamontagne.com.

On his last acoustic tour, critics across the US were raving about his performance. The Milwaukee Journal Sentinel said, "Ray LaMontagne's voice and its raspy, yet smooth tones paired with the simplistic live acoustics awakened the senses and made you feel … good. He gave you honest music filled with raw feeling, and it was amazing," while The Cincinnati Inquirer claimed, "a Ray LaMontagne concert is like this: intimate and personal, as if you've infringed upon a private performance session." Consequence of Sound said, "Hearing Ray LaMontagne perform live is a poignant and magical experience," while The Boston Herald raved, "LaMontagne's voice remains a marvel, quiet and reflective one minute and forceful and impassioned the next. It really is an amazing instrument."

In May, Ray released his seventh studio album Part of the Light. NPR said, "With ambitious acoustic '70s-style sounds, LaMontagne's warmth radiates on a record that expands on what we've come to expect from the singer-songwriter," and that LaMontagne is "in this incredibly inspired period in his career right now."
The first single "Such A Simple Thing" is currently in the Top 10 on BDS' AAA chart. He performed the track on ABC's Jimmy Kimmel Live (watch here) and BBC Two's LATER…with Jools Holland (watch here) and the track was featured in the season finale of ABC's Grey's Anatomy. Most recently, Ray made a stop to NPR's World Café.
2018 Just Passing Through Tour Dates
Oct-07-18 Merrill Auditorium Portland, ME
Oct-8-18 College Street Music Hall New Haven, CT
Oct-10-18 Radio City Music Hall New York, NY
Oct-12-18 Kodak Center Rochester, NY
Oct-15-18 FirstOntario Concert Hall Hamilton, ON
Oct-17-18 Taft Theatre Cincinnati, OH
Oct-18-18 Palace Theatre Louisville, KY
Oct-20-18 State Theatre Minneapolis, MN
Oct-22-18 Holland Performing Arts Center Omaha, NE
Oct-24-18 Adler Theatre Davenport, IA
Oct-26-18 Stephens Auditorium Ames, IA
Oct-27-18 Riverside Theatre Milwaukee, WI
Oct-29-18 Pablo Center at the Confluence Eau Claire, WI * On Sale TBA
Oct-30-18 Fox Cities PAC Appleton, WI
Nov-02-18 Brady Theatre Tulsa, OK
Nov-03-18 Robinson Performance Hall Little Rock, AR
Nov-07-18 BJCC Concert Hall Birmingham, AL
Nov-9-18 Dr Philips Center for the Performing Arts Orlando, FL
Nov-10-18 The Fillmore Miami Beach At The Jackie Gleason Theater Miami Beach, FL
Nov-11-18 Mahaffey Theatre St Petersburg, FL
Nov-13-18 Johnny Mercer Theatre Savannah, GA
Nov-14-18 Von Braun Center Concert Hall Huntsville, AL
Nov-16-18 North Charleston Performing Arts Center North Charleston, SC
Nov-17-18 Dominion Energy Center Richmond, VA
Nov-18-18 F.M. Kirby Center Wilkes-Barre, PA
To Listen Or Purchase Part Of The Light:
http://smarturl.it/RLPOTL


For more information please visit:
Official Website: www.raylamontagne.com
Facebook: www.facebook.com/raylamontagne
Twitter: www.twitter.com/RayLaMontagne


Contact:
Mika El-Baz – RCA Records – Mika.ElBaz@rcarecords.com
Meghan Kehoe – RCA Records – Meghan.Kehoe@rcarecords.com