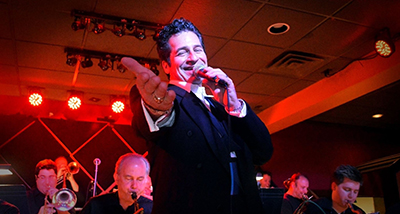 The Omaha native and his 17-piece musical extravaganza
take the stage Thursday, July 5, 2018
Omaha Performing Arts announces Omaha native Michael "Gooch" Gurciullo and his swinging big band will kick off Jazz on the Green Thursday, July 5, 2018. Gurciullo and his 17-piece musical extravaganza cover classic tunes and some of the best songs from the 20th century in a vintage Vegas-style show. Celebrated vocalist and pianist Christine Hitt will also join the band on stage to commemorate the band's 10th anniversary in Omaha.

After years working in Las Vegas' major showrooms and lounges with shows including "The Rat Pack is Back," "The Lon Bronson All Star Band" and more, Gooch returned to Omaha in 2008. He and his big band often play at The Ozone inside Anthony's Steakhouse. He's currently working on a follow-up album to his 2015 "Start of Something Big" and is touring the country as a member of The Official Blues Brothers Review.
Arrive early for preshow music by the Cole Palensky Quartet.

All Jazz on the Green at Midtown Crossing concerts are free to the public, with no reservations or tickets needed. Seating in the grassy circular area of Turner Park with a direct view of the stage, is permitted at 5:00 PM. Green spaces outside the bowl will be available before 5:00 PM. Pre-show entertainment begins at 6:30 PM and the headlining performance starts at 7:30 PM.
This year's Jazz on the Green at Midtown Crossing lineup includes:
Thursday, July 12
THE BIG TAKEOVER
(Reggae, world and Jamaican pop music with a Motown energy)

Thursday, July 19
TIEMPO LIBRE BOHEMIA
(tropical music featuring a mix of jazz harmonies and seductive rhythms)

Thursday, July 26
SHAYNA STEELE
(singer who fuses jazz, R & B and soul)

Thursday, August 2
SHAUN MURPHY BAND
(Nebraska native and legendary blues performer)
Thursday, August 9
NO BS! BRASS BAND
(Rock-tinged, New Orleans-inspired jazz)

The lead sponsor for Omaha Performing Arts presents Jazz on the Green at Midtown Crossing is Mutual of Omaha. Media sponsors for this year's series are KETV, KIOS and Omaha World-Herald. Fran and Rich Juro are sponsors of this performance. For more information about the series and the artists, visit JazzOnTheGreenOmaha.com.

Midtown Crossing restaurants set up in Turner Park each week, offering grilled foods, concessions and beverages. Beer, wine and champagne are allowed in Turner Park. Hard liquor is not permitted. Leashed pets are allowed.


Parking and information
There are two parking garages, easily accessible from Farnam Street, Harney Street, Dodge Street and 33rd Street. For Jazz on the Green event days only, garage parking is free from 5-11 PM.

Mutual of Omaha will have its surface parking lots open to the public for free beginning at 5 PM. Mutual of Omaha's surface lots are located at 36th and Dodge streets; between 35th Avenue and 34th Street off of Dodge; and at 35th and Farnam streets.
Metered parking is also available on the street.


ABOUT OMAHA PERFORMING ARTS
Omaha Performing Arts is dedicated to providing the best Broadway, jazz, blues, dance, comedy, family and popular entertainment to the citizens of Omaha at the Orpheum Theater, Holland Performing Arts Center and beyond. As Nebraska's largest arts organization, we also provide education opportunities and free community events to expand arts appreciation. Ticket Omaha is our official ticket provider.

We are grateful for support from the Nebraska Arts Council, Nebraska Cultural Endowment, National Endowment for the Arts, the City of Omaha and Douglas County. We also rely on corporate sponsors, donors and foundations.


ABOUT MIDTOWN CROSSING
This is what a strong urban core looks like – a diverse neighborhood where restaurants and retail, community events and individual experiences radiate. An energetic embrace when you want to live loudly, a quiet escape when you don't. We're dinner conversation with friends and shopping you won't find anywhere else. 16 acres of life's little extras: activity, serenity, community. Perfectly centered. East of expected.

For more information about Midtown Crossing, including the latest on residential and retail offerings, events and development amenities, please visit MidtownCrossing.com or contact Molly Skold at (402) 598-9676 or Molly.Skold@MutualOfOmaha.com.