DEREK HOUGH ANNOUNCES HIGHLY ANTICIPATED ALL NEW LIVE DANCE SHOW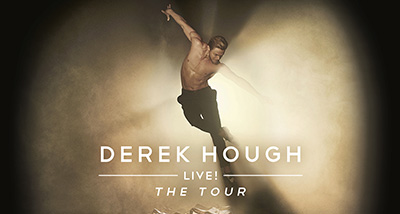 DEREK HOUGH: LIVE! THE TOUR
SPRING 2019 TOUR ANNOUNCED WITH EXCLUSIVE
TODAY SHOW
PERFORMANCE
COMING TO OMAHA'S ORPHEUM THEATER TUESDAY, MAY 21
TICKETS ON SALE FRIDAY, JUNE 22, 2018
Following the sold-out successes of the Move Live on Tour and Move – Beyond – Live on Tour acclaimed shows, including multiple sellouts at large prestigious venues such as Radio City Music Hall, DEREK HOUGH returns with a monumental experience for 2019 – DEREK HOUGH: LIVE! THE TOUR.

The tour stops at Omaha's Orpheum Theater Tuesday, May 21, 2019 at 7:30 PM. Tickets go on sale Friday, June 22 at 10 AM. Ticket prices start at $49.50 at TicketOmaha.com, in person at the Ticket Omaha* Box Office located inside the Holland Performing Arts Center, 1200 Douglas Street, or by phone at (402) 345-0606.

From the EMMY® award winning mind of Derek Hough, the live dance show is the first-ever solo tour for the dynamo. Derek stopped by the TODAY Show this morning to make his nationwide announcement, giving eager fans a taste of the high-energy choreography expected from the tour. The show features brand-new stage production, astounding versatility and, as always, Derek's magnetic stage presence. Fans will journey through a true fusion of dance and music, as Derek explores styles ranging from ballroom and tap to salsa and hop-hop and everything in between. Creative team and two-time EMMY® winners, Napoleon and Tabitha Dumo, also known as NappyTabs (Jennifer Lopez's 'All I Have' Residency; Michael Jackson: The Immortal World Tour; GRAMMYs® creative direction), will co-create, direct and supervise choreography for the tour. DEREK HOUGH: LIVE! THE TOUR kicks off Friday, April 5, 2019 in Charlotte, NC and continues through Atlanta, Boston, New York, Denver, Los Angeles, Las Vegas, Memphis and more before concluding in Reading, PA on Saturday, June 15, 2019.

Tickets will be available to the general public Friday, June 22, 2018 at TicketOmaha.com. American Express® Card Members can purchase tickets before the general public beginning Monday, June 18, 2018 at 10am. VIP packages will be available through derekhough.com, giving fans the chance to purchase premium tickets, including pre-show parties and meet and greet opportunities with Derek. Ticketmaster and fan pre-sales to follow on Wednesday, June 20, 2018 at 10am.

For up to date information and to purchase tickets, please visit TicketOmaha.com or derekhough.com.
2019 DEREK HOUGH: LIVE! THE TOUR - DATES
All dates and venues subject to change.

Friday April 5, 2019 | Charlotte, NC | Ovens Auditorium
Saturday, Aprill 6, 2019 | N. Charleston, SC | North Charleston PAC
Sunday, April 7, 2019 | Jacksonville, FL | Florida Theatre
Tuesday, April 9, 2019 | Clearwater, FL | Ruth Eckerd Hall
Wednesday, April 10, 2019 | West Palm Beach, FL | Dreyfoos Hall
Thursday, April 11, 2019 | Orlando, FL | Bob Carr
Friday, April 12, 2019 | Atlanta, GA | Fox Theatre
Saturday, April 13, 2019 | Durham, NC | DPAC
Sunday,. April 14, 2019 | Richmond, VA | Altria Theater
Tuesday, April 16, 2019 | Baltimore, MD | Lyric Opera House
Wednesday, April 17, 2019 | Pittsburgh, PA | Benedum
Thursday, April 18, 2018 | Hershey, PA | Hershey Theatre
Friday, April 19, 2019 | DC | MGM
Saturday, April 20, 2019 | Red Bank | Count Basie (2 shows)
Monday, April 22, 2019 | Philadelphia | Tower Theater
Tuesday, April 23, 2019 | Boston, MA | Boch Center - Wang
Wednesday, April 24, 2019 | Morristown NJ | Mayo PAC
Friday, April 26, 2019 | Albany, NY | Palace Theatre
Saturday, April 27, 2019 | Uncasville, CT | Mohegan Sun Arena
Sunday, April 28, 2019 | Rochester, NY | Kodak Hall
Tuesday, April 30, 2019 | Detroit, MI | Fox Theatre
Wednesday, May 1, 2019 | Columbus, OH | Palace Theatre
Thursday, May 2, 2019 | Nashville, TN | Opry House
Friday, May 3, 2019 | Indianapolis, IN | Murat / Clowes
Saturday, May 4, 2019 | Akron, OH | Civic Theatre
Sunday, May 5, 2019 | Rosemont, IL | Rosemont Theatre
Tuesday, May 7, 2019 | Grand Rapids, MI | DeVos Performance Hall
Wednesday, May 8, 2019 | Cincinnati, OH | Taft Theatre
Thursday, May 9, 2019 | Louisville, KY | Louisville Palace
Friday, May 10, 2019 | St. Louis, MO | Peabody Opera House
Saturday, May 11, 2019 | Kansas City, MO | Arvest Bank Theatre at the Midland
Sunday, May 12, 2019 | Springfield, MO | Hammons Hall
Tuesday, May 14, 2019 | South Bend, IN | Morris PAC
Wednesday, May 15, 2019 | Peoria, IL | Civic Center Theater
Thursday, May 16, 2019 | Milwaukee, WI | Riverside Theatre
Friday, May 17, 2019 | Minneapolis, MN | The State Theatre
Saturday, May 18, 2019 | Madison / Appleton | Overture / Fox Cities
Sunday, May 19, 2019 | Ames, IA | Stephens Auditorium
Tuesday, May 21, 2019 | Omaha, NE | Orpheum Theater
Wednesday, May 22, 2019 | Denver, CO | Bellco Theatre
Thursday, May 23, 2019 | Salt Lake City, UT | G&D Eccles Theater
Friday, May 24, 2019 | Boise, ID | Morrison Center
Saturday, May 25, 2019 | Seattle, WA | Benaroya Hall
Sunday, May 26, 2019 | Portland, OR | Arlene Schnitzer Concert Hall
Tuesday, May 28, 2019 | Santa Rosa, CA | Luther Burbank
Wednesday, May 29, 2019 | San Jose, CA | Center for the Performing Arts
Thursday, May 30, 2019 | Riverside, CA | Fox / Municipal
Friday, May 31, 2019 | Los Angeles, CA | Microsoft Theater
Saturday, June 1, 2019 | Las Vegas, NV | Venetian
Sunday, June 2, 2019 | Jun-2-19 Phoenix, AZ | Comerica
Tuesday, June 4, 2019 | Midland, TX | Wagner Noel
Wednesday, June 5, 2019 | San Antonio, TX | Tobin Center
Thursday, June 6, 2019 | Grand Prairie, TX | Verizon Theatre at Grand Prairie
Friday, June 7, 2019 | Sugar Land, TX | Smart Financial Center
Saturday, June 8, 2019 | New Orleans, LA | Saenger Theatre
Sunday, June 9, 2019 | Birmingham, AL | Concert Hall at the BJCC
Tuesday, June 11, 2019 | Memphis, TN | Orpheum Theatre
Wednesday, June 12, 2019 | Knoxville, TN | Civic Auditorium
Friday, June 14, 2019 | Charleston, WV | Charleston Municipal Auditorium
Saturday, June 15, 2019 | Reading, PA | Santander
*Ticket Omaha is the official retail ticket outlet for all performances at the Orpheum Theater and the Holland Performing Arts Center. Tickets purchased from other ticket retailers such as secondary ticket agencies or brokers may be more expensive and may not be valid. Due to the nature of live entertainment, all programs, performers, pices, dates and times are subject to change.
ABOUT OMAHA PERFORMING ARTS
OMAHA PERFORMING ARTS is dedicated to providing the best Broadway, jazz, blues, dance, comedy, family and popular entertainment to the citizens of Omaha at the Orpheum Theater, Holland Performing Arts Center and beyond. As Nebraska's largest arts organization, we also provide education opportunities and free community events to expand arts appreciation. Ticket Omaha is our official ticket provider.

We are grateful for support from the Nebraska Arts Council, Nebraska Cultural Endowment, and National Endowment for the Arts, the City of Omaha and Douglas County. We also rely on corporate sponsors, donors and foundations. More information.


ABOUT DEREK HOUGH
Emmy Award winning and New York Times Best-Selling author Derek Hough, the only six time champion in franchise history of the hit ABC show Dancing with the Stars, started dancing in his hometown of Salt Lake City, UT, at age 11. Just one year later, he moved to London to live and train with the top dance coaches in the world and attend the prestigious Italia Conti performing arts school where he studied theatre, music and dance.

A multi-talented entertainer, two-time Emmy Award winner and none-time nominee for Best Choreography, Hough has also appeared in film, television and stage projects as an actor. He made his feature film debut for director Duane Adler and producer Robert Cort in the feature film Make Your Move and has a recurring role on the ABC series Nashville. His stage performances include Radio City Music Hall's Spring Spectacular costarring alongside the Tony Award winning Laura Benanti and the critically acclaimed production of Footloose which he starred as the male lead in London's West End. In December of 2016, Hough starred with Jennifer Hudson, Ariana Grande, Martin Short and Harvey Fierstein in NBC's Hairspray Live!

In May of 2017, Hough joined Jennifer Lopez and Ne-Yo at the judges table for the NBC series World of Dance. World of Dance, which launched as the highest rated summer show in over ten years, is an unparalleled dance competition that featured solo artists competing against duos and crews in all genres of dance, including hip hop, tap, ballet, break dancing, ballroom, and more competing for a million dollar prize.

Hough can also add best-selling author to his list of credits. His memoir Taking the Lead; Lessons from a Life in Motion hit stands in August of 2014 and rapidly was named to the prestigious New York Times Best-Seller list during two non-consecutive time periods. In 2014 Hough and his sister Julianne teamed for a live stage dance concert MOVE Live on Tour performing in 50 cities around the country, in 2015 they toured again selling out scores of venues on their 47city outing. In 2017 they again performed a sold-out tour of 48 cities around the United States with their show Move – Beyond – Live on Tour.

With celebrity partners on Dancing with the Stars that have included Brooke Burke, Jennie Garth, Ricki Lake, Maria Menounos Nicole Scherzinger, Jennifer Grey, Kellie Pickler, Amber Riley, Amy Purdy and Bindi Irwin, Hough is best known for his innovation and daring choreography on the show. Hough is the winningest professional dancer with six Mirror Ball Trophies. His work has brought him Emmy nominations and inquiries from the film and music world regarding his dance knowledge and ability.