Apr 30, 2018, 17:00 PM by Kelly Bartnick
ALL STAR COMEDY JAM 2018:
LIL DUVAL, KOUNTRY WAYNE,
& DC YOUNG FLY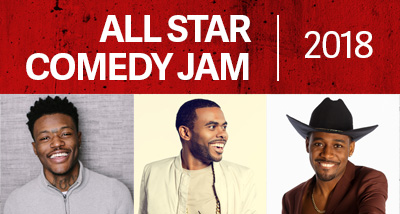 Kick Off Comedy Tour at Holland Center
Friday, July 20
Fresh off their successful touring schedules, three superstar comedians are uniting to kick off a new national comedy tour in Omaha. Lil Duval, Kountry Wayne, & DC Young Fly are bringing their All Star Comedy Jam 2018 to the Holland Performing Arts Center Friday, July 20, 2018 at 8:00 PM.

Tickets start at $42 and go on sale at 10:00 AM Friday, May 4, 2018. Tickets are available at TicketOmaha.com, in person at the Ticket Omaha* Box Office inside the Holland Performing Arts Center, 1200 Douglas Street or by phone at 402.345.0606.


ABOUT THE HEADLINERS
Lil Duval is a larger than life veteran comedian with impeccable stage timing. He prides himself on living a single, happy life filled with signature catch phrases.

Kountry Wayne, a charismatic funny comedian and social media sensation uses short funny clips to captivate his audience. Kountry Wayne (Wayne Colley) is currently on a 35 city Gift of Gab Tour.

DC Young Fly combines his in-your-face personality with a raw comedic style. He is currently host of MTV's "TRL" and a recurring cast member on Nick Cannon's MTV's "Wild 'N Out." He enjoys a good roasting session during a stage performance that also showcases his own signature slogans.



*Ticket Omaha is the OFFICIAL ticket source for the Orpheum Theater and Holland Performing Arts Center. Ticket buyers who purchase tickets from a ticket broker or any third party run the risk of overpaying, purchasing illegitimate tickets and should be aware that Omaha Performing Arts is unable to reprint or replace lost or stolen tickets from these sources and is unable to contact patrons with information regarding time changes or other pertinent updates regarding the performance.