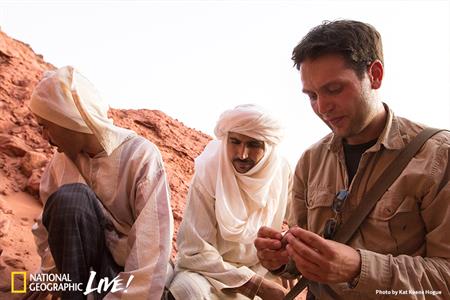 Tickets for "Spinosaurus: Lost Giant of the Cretaceous" with Nizar Ibrahim now on sale
National Geographic Live, National Geographic's touring speaker series, and Omaha Performing Arts are proud to present "Spinosaurus: Lost Giant of the Cretaceous" with Nizar Ibrahim, a National Geographic Emerging Explorer and paleontologist. The event will take place at 7:30 PM, Tuesday, March 20, 2018 at the Holland Performing Arts Center.
German/Moroccan paleontologist Nizar Ibrahim, a postdoctoral scholar in vertebrate anatomy and paleontology at the University of Chicago and 2014 National Geographic Emerging Explorer, scours the deserts of North Africa for clues to life in the Cretaceous period, when the area was a large river system teeming with a profusion of diverse life. In addition to unearthing many huge dinosaur bones, he has discovered fossil footprints and a new species of flying reptile with an 18-foot wingspan that lived 95 million years ago.

Ibrahim's remarkable story and the findings of an international team of scientists were just published in the journal Science and as a cover story for National Geographic magazine. What has been unveiled appears to be the first truly semiaquatic dinosaur, Spinosaurus aegyptiacus.

In 2014, Ibrahim was named a National Geographic Emerging Explorer, and in 2015, he was named a TED fellow, the first paleontologist in the history of the program. His upcoming paper describing the ecosystem of what is now Morocco's Sahara Desert in the mid-Cretaceous period promises to be a milestone, providing the most detailed account of the diversity, paleoecology, and geologic context of fossil vertebrates from North Africa.

National Geographic Live is the live events division of National Geographic. With a broad roster of talent including renowned photographers, scientists, authors, filmmakers and adventurers, National Geographic Live's critically acclaimed programs have connected with audiences worldwide for over a century. Currently, National Geographic Live events are held in a variety of cities around the world, including, Seattle, Tampa, Los Angeles, Florence and Calgary. In each of these cities, speakers share
behind-the-scenes stories from the front lines of exploration onstage alongside stunning imagery and gripping footage.

Tickets start at $11.00. For tickets and information, please call (402) 345-0606, visit TicketOmaha.com or purchase in person at the Ticket Omaha* Box Office located inside the Holland Performing Arts Center 1200 Douglas Street in downtown Omaha.

Hilton Omaha is a hospitality sponsor for this event.
* Ticket Omaha is the official ticket source for the Orpheum Theater and Holland Performing Arts Center. Ticket buyers who purchase tickets from a ticket broker or any third party run the risk of overpaying, purchasing illegitimate tickets and should be aware that Omaha Performing Arts is unable to reprint or replace lost or stolen tickets and is unable to contact patrons with information regarding time changes or other pertinent updates regarding the performance.