Feb 12, 2018, 17:38 PM by Kelly Bartnick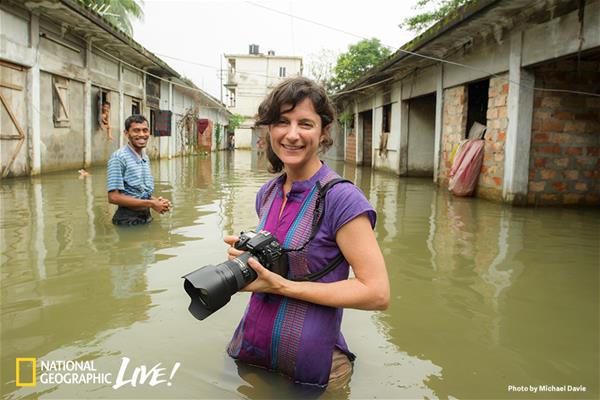 Tickets for "Rhinos, Rickshaws, and Revolutions" with Ami Vitale now on sale
National Geographic Live, National Geographic's touring speaker series, and Omaha Performing Arts are proud to announce Rhinos, Rickshaws, and Revolutions with photojournalist Ami Vitale, a National Geographic Magazine photographer. The event will take place at 7:30 PM Thursday, February 20, 2018 at the Holland Performing Arts Center, 1200 Douglas Street in downtown Omaha.

Ami Vitale has lived in war zones, contracted malaria and donned a panda suit – all in keeping with her philosophy of "living the story." Early in her career, her focus was on conflict, such as the war in Kosovo, and the border dispute between India and Pakistan. Her first National Geographic story documented the last rickshaws in Kolkata, India. More recently, she has turned her lens to wildlife stories, including efforts to reintroduce white rhinos and pandas to the wild. Her coverage of Kenya's northern white rhinos, and the indigenous communities working to protect them, earned her World Press Photo recognition in 2015.

Vitale's career has taught her that stories about nature and wildlife are also stories about people — and that, at the same time, "you can't talk about humanity without talking about nature." She'll share her personal odyssey, told through the images and adventures that have transformed into a celebrated global photojournalist.

National Geographic Live is the live events division of National Geographic. With a broad roster of talent including renowned photographers, scientists, authors, filmmakers and adventurers, National Geographic Live's critically acclaimed programs have connected with audiences worldwide for over a century. Currently, National Geographic Live events are held in a variety of cities around the world, including, Seattle, Tampa, Los Angeles, Florence and Calgary. In each of these cities, speakers share behind-the-scenes stories from the front lines of exploration onstage alongside stunning imagery and gripping footage. For more information, visit natgeolive.com.

Tickets, starting at $11.00 are now available online at TicketOmaha.com, at the Ticket Omaha Box Office inside the Holland Performing Arts Center, 1200 Douglas Street or by phone at 402.345.0606. Hilton Omaha is a hospitality sponsor for this engagement.