Omaha Performing Arts Presents
SHATNER'S WORLD: We Just Live In It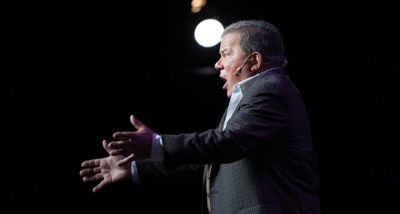 Experience William Shatner's signature storytelling style October 26, 2017 at the Holland Performing Arts Center
OMAHA, Neb. (September 28, 2017)
– Omaha Performing Arts presents William Shatner, one of Hollywood's most recognizable personalities, Thursday, October 26, 2017 at the Holland Performing Arts Center. Shatner will bring his one-man show, SHATNER'S WORLD: We Just Live In It at 7:30 PM.
Tickets, starting at $35 are available at TicketOmaha.com, at the Ticket Omaha Box Office inside the Holland Performing Arts Center or by calling 402.345.0606.
In
SHATNER'S WORLD
…a one-man force of nature delivers a larger-than-life performance complete with his laugh-out-loud humor, signature storytelling and select musical numbers in his inimitable style.
Through anecdotes, songs, jokes and even some poignant moments, you will experience William Shatner 's phenomenal path from classically trained Shakespearean actor to cultural icon, brilliantly creating the most important character he has ever played… William Shatner.
William Shatner has cultivated a career spanning more than 50 years as an award-winning actor, director, producer, writer, recording arts, and horseman. He is one of Hollywood's most recognizable figures and a major philanthropist.
His accomplishments in television, film and stage are vast. Highlights include his origination of the role of Captain James T. Kirk in the 1966 television series "Star Trek." The series spawned a feature film franchise where Shatner returned as Captain Kirk in seven of the "Star Trek" movies, one of which he directed.
Shatner played the title role in the hit television series "T.J. Hooker" before hosting television's first reality-based series, "Rescue 911."
He won Emmys and his first Golden Globe for his portrayal of eccentric lawyer Denny Crane on both "The Practice" and "Boston Legal." He received four more Emmy nominations as well as other Golden Globe and SAG Award nods.
Shatner has originated his own talk show, recorded critically acclaimed albums, authored more than 30 best-selling fiction and non-fiction books, and more.
Shatner has been successful in another area — horse breeding. A longtime dedicated breeder of American Quarter horses, he has had enormous success with the American Saddlebred, developing and riding world champions and has won numerous world championships in several equine events. His passions for horses and philanthropy were united when he started the Hollywood Charity Horse Show, which benefits Los Angeles-based children's charities.
Shatner continues to act, write, produce and direct while still making time to work with charities and further his passion in equestrian sports. He and his wife, Elizabeth, and three married children live in Los Angeles.
This performance is part of Omaha Performing Arts' 17/18 Season. Go online to
TicketOmaha.com
for more information and tickets to season series and additional performances presented by Omaha Performing Arts.