The popular Omaha Performing Arts Program has expanded to include new times and a new jazz curriculum this fall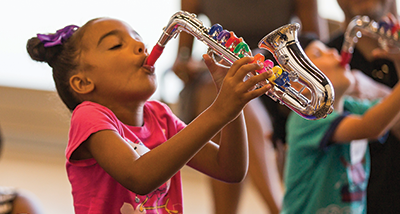 OMAHA, Neb. – (August 29, 2017)
– WeBop® is back at Omaha Performing Arts! The popular early childhood education curriculum for children ages 2-5 and their parents/guardians offers several opportunities beginning Monday September 25 at the Holland Performing Arts Center. Registration is now open.
One new feature this year is Omaha Performing Arts' WeBop® Family Jazz Party, a special kick-off event to celebrate the upcoming season allowing families to sing, dance, meet the jazz band and learn groovin' new ways to engage with music as a family. Tim Sullivan from Jazz at Lincoln Center will lead the 45-minute concerts for children ages 8 months to 8 years and their parents in two sessions Saturday, September 16. Registration for the jazz party is $10 per child at TicketOmaha.com.
Omaha Performing Arts has also added a new curriculum for 2017. "Meet the Jazz Band" teaches children and families about different jazz instruments. The classes will also be accompanied by a special guest musician. The popular "ABC's of Jazz" also returns in 2017. Classes are 45 minutes, held once each week for eight weeks at the Holland Performing Arts Center.
WeBop® Classes and Schedule:
ABC'S of Jazz
Mondays (new class) | 6:00pm – 6:45pm | Syncopators (4-5 years)
Meet the Jazz Band
Tuesdays 6:00pm – 6:45pm | Syncopators (4-5 years)
Meet the Jazz Band
Saturdays (new time), 10:15am – 11:00am | Stompers (2-3 years)
ABC's of Jazz
Saturday Morning (new time), 11:15am – 12:00pm | Gumbo Group (3-5 years)
WeBop® is an early childhood education program inviting families to stomp, strut and swing to the joyous rhythms of jazz as they learn about its core concepts, instruments and great performers. These 45-minute interactive classes for children and their parents were developed by Jazz at Lincoln Center in conjunction with Columbia University, offering a creative outlet to explore jazz together through movement, songs, storytelling and play. Registration is $200 per child, including up to two parents or guardians.
A ten percent discount is given to fees for a second child and any returning WeBop® participant.
More information.
ABOUT OMAHA PERFORMING ARTS
OMAHA PERFORMING ARTS is dedicated to providing the best Broadway, jazz, blues, dance, comedy, family and popular entertainment to the citizens of Omaha at the Orpheum Theater, Holland Performing Arts Center and beyond. As Nebraska's largest arts organization, we also provide education opportunities and free community events to expand arts appreciation. Ticket Omaha is our official ticket provider.
We are grateful for support from the Nebraska Arts Council, Nebraska Cultural Endowment, and National Endowment for the Arts, the City of Omaha and Douglas County. We also rely on corporate sponsors, donors and foundations.
ABOUT JAZZ AT LINCOLN CENTER
From our first downbeat as a summer concert series at Lincoln Center in 1987, to the fully orchestrated achievement of opening the world's first venue designed specifically for jazz in 2004, Jazz at Lincoln Center celebrated this music and these landmarks with an ever-growing audience of jazz fans from around the world. Representing the totality of jazz music, Jazz at Lincoln Center's mission is carried out through four elements—educational, curatorial, archival, and ceremonial—capturing, in unparalleled scope, the full spectrum of the jazz experience.