JAZZ ON THE GREEN KICKS OFF WITH
THE POTASH TWINS WITH VOODOO VINYL

High-Powered Blues Band Featuring Omaha Natives Performs July 6
OMAHA, Neb. – (June 26, 2017) – Omaha Performing Arts announces The Potash Twins as the first performance of the 2017 Jazz on the Green at Midtown Crossing series. The presenting sponsor for Jazz on the Green at Midtown Crossing is Mutual of Omaha. The headliner will begin at 7:30 PM on stage at Turner Park, 30th and Farnam. The lawn opens at 5:00 PM with pre-show entertainment starting at 6:30 PM.

Jazz musicians Adeev and Ezra Potash, dubbed the "Twin Horns of Joy" by NPR, return to their hometown to open Jazz on the Green at Midtown Crossing. Mentored by the legendary Wynton Marsalis, the Omaha brothers have performed across the globe including at Jazz at Lincoln Center and the South By Southwest music festival. The twins are also hosts of Travel Channel's "Southern Road Trip with The Potash Twins," and their album "The Potash Twins" recently reached No. 9 on the iTunes Jazz Charts in 2015.

VooDoo Vinyl from Omaha Blues Society's BluesEd youth artist development program is the opening performance.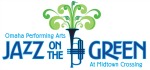 All Jazz on the Green at Midtown Crossing concerts are free to the public, with no reservations or tickets needed. Seating in the grassy circular area of Turner Park with a direct view of the stage, is permitted at 5:00 PM. Green spaces outside the bowl will be available before 5:00 PM. Pre-show entertainment begins at 6:30 PM and the headlining performance starts at 7:30 PM.

This year's Jazz on the Green at Midtown Crossing includes:
Thursday, July 13: Hector Rosado Y Su Orchestra HACHE (Latin jazz, salsa, bachata, and merengue)
Thursday, July 20: Sugar Thieves (soulful blend of blues, jazz, folk, and country)
Thursday, July 27: Bayou City Brass Band (paying homage to traditional New Orleans second-line style with an original sound all their own)
Thursday, August 3: The Ron E. Beck Soul Revue with A Family Affair (Omaha-native Blues singer and percussionist)
Thursday, August 10: Sammy Miller and the Congregation (Grammy-nominated band featuring joyful jazz)
Midtown Crossing offers convenient and secure parking for more than 3,000 vehicles. Two parking garages are easily accessible from 33rd, Farnam and Harney streets. In both garages, the first three hours are free, and visitors pay only $1 for each hour thereafter.

Midtown Crossing vendors will have food and beverages available for purchase. Outside food and beverages are also allowed, excluding hard liquor. Beer and wine are okay.

The sponsor for Omaha Performing Arts presents Jazz on the Green at Midtown Crossing is Mutual of Omaha. Media sponsors for this year's series are KETV, KIOS and Omaha World-Herald. Even Hotels Omaha is hospitality sponsor. For more information visit JazzOnTheGreenOmaha.com.



ABOUT OMAHA PERFORMING ARTS
Omaha Performing Arts is a non-profit arts organization dedicated to enriching the lives of the citizens of Omaha and surrounding communities. In its two venues: the Orpheum Theater and Holland Performing Arts Center, the organization presents the best of Broadway, jazz, blues, dance, comedy, family and popular entertainment. Omaha Performing Arts also offers a range of educational programs and free community events that support, enhance and expand appreciation for the arts. In addition, the organization provides comprehensive ticketing services through Ticket Omaha, the official ticket retailer for the Orpheum and Holland.

Omaha Performing Arts' performances are supported in part by the Nebraska Arts Council, Nebraska Cultural Endowment, National Endowment for the Arts, the City of Omaha and the Douglas County Visitor Improvement Fund, as well as corporate sponsors, private donors and foundations. For more information, visit OmahaPerformingArts.org.


ABOUT MIDTOWN CROSSING AT TURNER PARK
Midtown Crossing. This is what a strong urban core looks like – a diverse neighborhood where restaurants and retail, community events and individual experiences come to life. An energetic embrace when you want to live loudly, a quiet escape when you don't. We're dinner conversation with friends and shopping you won't find anywhere else. 16 acres of life's little extras: activity, serenity, community. Perfectly centered. East of expected.

For more information about Midtown Crossing, including the latest on residential and retail offerings, events and development amenities, please visit MidtownCrossing.com or contact MollySkold at (402) 598-9676 or Molly.Skold@MutualofOmaha.com.