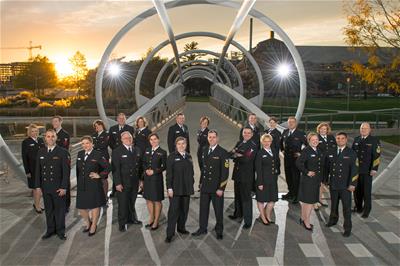 WASHINGTON (April 21, 2017) -- America's Navy is coming to Omaha, Nebraska, one of 18 cities in eight states to host a performance by the United States Navy Band during its 2017 tour -- one of the signature outreach programs of the U.S. Navy.

The United States Navy Band Sea Chanters performance is scheduled for May 2, 2017, at 7:30 PM at the Holland Performing Arts Center's Kiewit Concert Hall, 1200 Douglas Street. Admission is free, but tickets are required. Tickets are available at TicketOmaha.com; at the Ticket Omaha Box Office inside the Holland Performing Arts Center, 1200 Douglas Street, or by calling (402) 345-0606. Tickets are limited to four per patron.

The U.S. Navy Band Sea Chanters is the official chorus of America's Navy. The ensemble performs a variety of music ranging from traditional choral music, including sea chanteys and patriotic fare, to opera, Broadway, and contemporary music. The Sea Chanters chorus is frequently found at the center of high-profile national events. At home in Washington, the group performs for the president, vice president, and numerous congressional, military and foreign dignitaries.

One of the U.S. Navy Band's primary responsibilities involves touring the country. All of the band's primary performing units embark each year on concert tours throughout specified regions of the country, allowing the band to reach out to audiences in areas of the country that do not have opportunities to see the Navy's premier musical ensembles on a regular basis. The concerts are family-friendly events, meant to be entertaining to veterans, families, individuals and those interested in joining the Navy.

All Navy Band performances are free and open to the public.
QUOTES
"For many years, Navy bands have been where it matters, when it matters, just like the rest of our Navy. Today, we have Sailors performing around the world, improving relations with our allies abroad as well as telling the Navy story here at home." –Capt. Kenneth Collins, U.S. Navy Band commanding officer


QUICK FACTS
The U.S. Navy Band is the flagship musical organization of the Navy, and one of 11 Navy bands located around the world.
The U.S. Navy Band is based at the Washington Navy Yard in Washington, D.C.
The Sea Chanters 2017 tour will cover 18 cities and more than 2,800 miles.
The Navy Band has been touring the country since 1925.
There are six performing ensembles in the Navy Band: the Concert Band, Ceremonial Band, Sea Chanters chorus, Commodores jazz ensemble, Country Current country/bluegrass ensemble, and the Cruisers popular music group
Ensembles from the Navy Band tour nationally 12-15 weeks each year.
Sailors in the Navy Band are full-time professional musicians.
Almost all of the Sailors in the Navy Band have undergraduate degrees in music, and most have graduate degrees.


LINKS
U.S. Navy Band
Navy Band tours
U.S. Navy Band Sea Chanters
U.S. Navy


PHOTOGRAPHS
Sea Chanters photo 1
https://flic.kr/p/GbmkFJ

Sea Chanters portrait (http://www.navyband.navy.mil/images/photos/ensemble%20portraits/sea-chanter-portrait-large.jpg)

Sea Chanters photo 3
https://flic.kr/p/FU9xZh


SOCIAL MEDIA
INTERVIEWS
Contact the Navy Band public affairs office to arrange interviews. Television performances are also available, depending on operational commitments.

CONTACT
U.S. Navy Band public affairs
202-433-4777
NavyBand.Public.Affairs@navy.mil
http://www.navyband.navy.mil/