Jan 10, 2017, 14:46 PM by Kelly Bartnick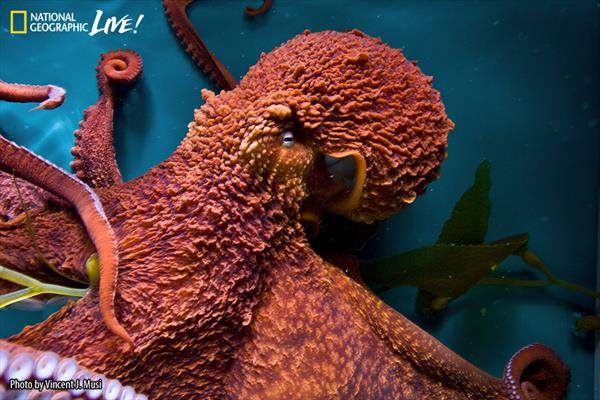 OMAHA, Neb. (Jan. 10, 2017) – Being spit on by a chimp, screamed at by a prairie dog and charged by a pig is all in a day's work for veteran photographer Vincent J. Musi. Hear about the National Geographic explorer's journeys and see extraordinary images from his forays into the wild world of our nonhuman friends in Where the Wild Things Live Tuesday, February 7, 2017 at 7:30 PM at the Holland Performing Arts Center. Musi is part of the National Geographic Live speaker series presented by Omaha Performing Arts. Tickets for the 7:30 PM presentation start at $10 and are available at Ticket Omaha* inside the Holland Performing Arts Center, 1200 Douglas Street, online at www.TicketOmaha.com or by calling (402) 345-0606.

In an April 2014 National Geographic magazine, Musi explored the deep connections some people have with creatures you can't get at the pet store – from a deer with her own bedroom, to a cuddly potbellied pig and beyond. He'll share images and stories from the assignment and from his other work, including a March 2008 article on "Animal Minds."
About Vincent J. Musi
For more than 25 years, Vincent J. Musi has photographed diverse subjects—from traveling Route 66 to global warming, life under volcanoes, illegal immigration, and the Arctic National Wildlife Refuge. He began as a freelance photographer with the National Geographic Society in 1993, contributing to two book projects and many National Geographic magazine articles. He is also a contributor to Time, Newsweek, Life, Fortune, and the New York Times Magazine.
Musi first of three speakers in Omaha Performing Arts Series Musi's presentation is the first of three showcasing breathtaking photography in the National Geographic Live Series presented by Omaha Performing Arts.
Other speakers include:
Down to Nothing with mountaineer Hilaree O'Neill
Tuesday, March 21, 2017 | 7:30 PM | Holland Center
In the fall of 2014, a National Geographic team set out on what they knew would be a harrowing journey to the summit of Burma's Hkakabo Razi to determine if it is indeed Southeast Asia's highest point. What they didn't realize was that the greatest obstacle wouldn't be their dwindling rations, or the grueling jungle hikes, or the life-threatening hypothermia. It was the force of conflicting personalities that threatened to unravel the entire endeavor. Leader Hilaree O'Neill recounts the tough decisions she had to make to keep the team together, accompanied by photographer Cory Richard's dramatic stills and clips from Renan Ozturk's searing documentary Down to Nothing.
Chasing Rivers with photographer Pete McBride
Tuesday, April 18, 2017 | 7:30 PM | Holland Center
After a decade working mostly abroad, Pete decided to focus his cameras closer to home on a subject closer to his heart. Combining his passion for aviation and his belief in conservation, he spent over two years documenting his local river — the Colorado. This journey culminated in the acclaimed coffee table book: "The Colorado River: Flowing Through Conflict", an award-winning short film, "Chasing Water" and a traveling museum exhibit/ lecture currently touring the U.S.

Hilton Omaha is the hospitality sponsor for National Geographic Live.