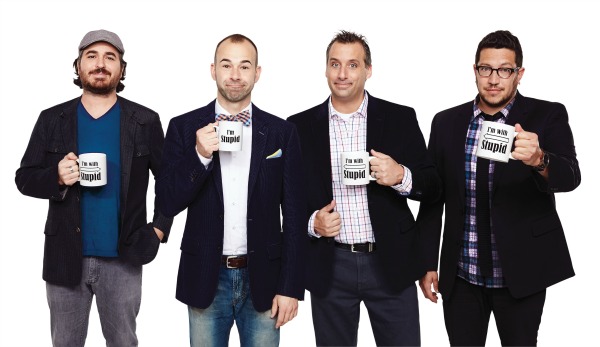 Omaha, Neb. (December 16, 2015) – Those hilarious hidden-camera pranksters from truTV's hit series "Impractical Jokers" are coming to the Holland Center on Saturday, April 16, 2016 at 7:00 p.m. with all new material for "The truTV Impractical Jokers 'Where's Larry?' Tour, starring The Tenderloins." Sponsored by truTV, the show "Impractical Jokers" will star Q, Sal, Murr & Joe, the lifelong friends who are also known as the comedy team The Tenderloins. Join them for a night of hysterical never-before-seen hidden camera challenges, stories from set that you won't believe, live Q&A, and real, outrageous messages from fans!
Tickets go on sale this Friday, December 18, at 10 a.m. at Ticket Omaha at TicketOmaha.com, the Ticket Omaha Box Office inside the Holland Performing Arts Center, 1200 Douglas St., or charge-by-phone at (402) 345-0606.
The Tenderloins, a New York-based comedy troupe, whose four members – Joe Gatto, James Murray, Brian Quinn and Sal Vulcano – are the creators, executive producers, and stars of truTV's hit series, Impractical Jokers. Currently in its fourth season, "Impractical Jokers" follows the guys as they coerce one another into doing public pranks while being filmed by hidden cameras. The fourth season premiere drew more than two million viewers and the program consistently earns Top Five rankings in its timeslot for key demos. This season continues to take dares to outrageous levels with a whole new arsenal of over-the-top hijinks, bringing the show and the guys to new locations and setting each other up for some of the most uncomfortable antics yet.
Their highly successful tour, "The truTV Impractical Jokers 'Where's Larry?' Tour Starring The Tenderloins," is a mix of stand-up, never-before-seen hidden camera videos, stories and insight. The tour has crisscrossed the country playing to 2000-8000 people per market. Tour dates can be found here: http://thetenderloins.com/tour/.
About truTV
truTV, one of cable's fastest growing brands, offers a wildly entertaining look at the real world through outrageous characters, unpredictable situations and irreverent storytelling. Currently seen in 92 million U.S. households, truTV features such popular original series as "Hardcore Pawn," "Hardcore Pawn: Chicago," "Impractical Jokers," "Killer Karaoke," "Lizard Lick Towing," "Upload with Shaquille O'Neal," "Guinness World Records Unleashed," "Storage Hunters," "Operation Repo," "Full Throttle Saloon," "South Beach Tow" and "World's Dumbest," as well as the acquired hit "Wipeout." In addition, truTV is a partner in airing the NCAA Division I Men's Basketball Championship. truTV is a part of Turner Broadcasting System, Inc., a Time Warner company. Turner Broadcasting creates and programs branded news; entertainment; animation and young adult; and sports media environments on television and other platforms for consumers around the world.

###

*Ticket Omaha is the official retail ticket outlet for all performances at the Orpheum Theater and the Holland Performing Arts Center. Tickets purchased from other ticket retailers such as secondary ticket agencies or brokers may be more expensive and may not be valid. Due to the nature of live entertainment, all programs, performers, prices, dates and times are subject to change.