Tickets on sale Friday for
PAULA POUNDSTONE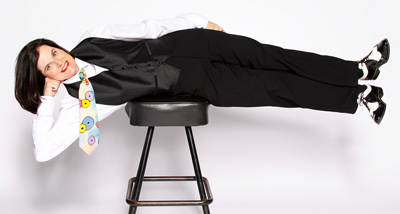 Coming to the Holland Performing Arts Center August 24, 2018
Paula Poundstone brings her smart, observational humor to the Holland Performing Arts Center for an evening of uniquely spontaneous comedy on Friday, August 24 at 8:00 PM.

Tickets, starting at $39.25, go on sale Friday, May 4, 2018 at TicketOmaha.com, in person at the Ticket Omaha* Box Office, inside the Holland Performing Arts Center, 1200 Douglas Street or by phone at 402.345.0606.

Known for her legendary improvisational interaction with the crowd, Paula Poundstone is one of the country's pre-eminent comedians. She improvises with a crowd like a jazz musician, swinging in unexpected directions without a plan, without a net. There's a disarming ease in her craft, an immediate sense that she's so quick on her feet you need never worry about the possibility of something going wrong.

Poundstone's razor sharp wit and impeccable timing makes for the perfect fit as a regular panelist on NPR's #1 show, the weekly comedy news quiz, "Wait, Wait...Don't Tell Me!" When asked about Paula, "Wait, Wait.." host Peter Sagal replied, "Paula Poundstone is the funniest human being I have ever known. Everything she does, thinks, or says is hilarious. If you cut her into bits, each piece would be funny. (But don't!). Air becomes funny having been breathed by her."

Paula is also an author. She just released her second book, the critically acclaimed, "The Totally Unscientific Study Of The Search For Human Happiness" (Algonquin Books). The book landed at number 1 on Amazon Best Sellers lists in humor in hardcover, Audible and CD. The audio book, read by Poundstone, is one of five finalists for Audio Book of the Year. Paula voiced the character "Forgetter Paula" in "Inside Out," winner of the Academy Award for Best Animated Feature. Her commentaries appear on "CBS Sunday Morning" and guest appearances include "Late Night with Stephen Colbert," "Last Call with Carson Daly," "Nerdist" with Chris Hardwick, "Weekend Edition" and "Puzzle Master" with Will Shortz! Oh, and did anyone notice that this past year she was an answer in The New York Times crossword puzzle?

Paula was the first woman to perform standup comedy at the White House Correspondents' Dinner. A star of several HBO specials – her second special, "Paula Poundstone Goes to Harvard" marked the first time that elite university allowed its name to be used in the title of a television show. Paula also starred in her own series on HBO and ABC, "The Paula Poundstone Show." Her memorable coverage of the 1992 Presidential election as a special correspondent for "The Tonight Show with Jay Leno," followed by behind-the-scenes coverage at the 45th Annual Prime Time Emmy Awards in 1993 set the standard for those who followed.

Paula is recognized on Comedy Central's list of The 100 Best Standup Comics of All Time. She won an American Comedy Award for Best Female Standup Comic, and she is included in innumerable lists, documentaries and literary compendiums noting influential standup comedians of our time.



*Ticket Omaha is the OFFICIAL ticket source for the Orpheum Theater and Holland Performing Arts Center. Ticket buyers who purchase tickets from a ticket broker or any third party run the risk of overpaying, purchasing illegitimate tickets and should be aware that Omaha Performing Arts is unable to reprint or replace lost or stolen tickets from these sources and is unable to contact patrons with information regarding time changes or other pertinent updates regarding the performance.