Due to a scheduling conflict the Tiffany Haddish performance at the Holland Performing Arts Center has been moved to May 19th. This show will now start at 7:00 PM. New tickets will be mailed to anyone who previously purchased them by February 12. Patrons who cannot attend because of the date/time change should contact Ticket Omaha before March 23, 2018.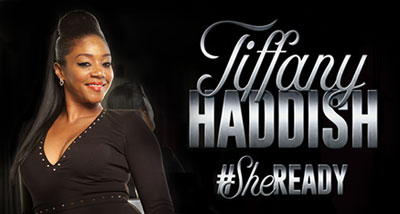 OMAHA, Neb. (Jan. 26, 2018) – Fresh off the smash success of "Girls Trip," comedian Tiffany Haddish is bringing her hilarity to the Holland Performing Arts Center May 19, 2018, 2018 at 7:00 PM. Tickets, starting at $35, are still available at the Ticket Omaha* Box Office located inside the Holland Performing Arts Center, online at TicketOmaha.com or by phone at 402.345.0606. Tiffany Haddish is presented by Omaha Performing Arts and AEG Presents.
Note that this is a date/time change. Patrons who cannot attend or have questions should contact Ticket Omaha before March 23, 2018.
Tiffany Haddish is quickly establishing herself as one of the most sought-after comedic talents in television and film. Haddish was most recently seen starring in Universal's "Girls Trip" alongside Jada Pinkett Smith, Queen Latifah and Regina Hall. "Girls Trip" had the highest opening for an R rated comedy in the past two years and VanityFair.com called Haddish "the funniest woman alive." In August, she debuted her comedy special for Showtime titled "Tiffany Haddish: SHE READY! From the Hood to Hollywood" and she will next be seen starring alongside Tracy Morgan in the new TBS show, "The Last O.G." Additionally, she is currently in production alongside Kevin Hart for Universal's "Night School" and will be releasing her first book "The Last Black Unicorn" in December which will be a collection of autobiographical essays about Haddish's journey through life, comedy and inspiring others.

Previously, she was a series regular on NBC's "The Carmichael Show" and was seen co-starring alongside Keegan-Michael Key and Jordan Peele in the film, "Keanu." Her other film credits include diverse projects such as "Meet the Spartans" and the Lifetime drama "Racing for Time," where she played a lead role opposite Charles S. Dutton and opposite Ice Cube in "The Janky Promoters." Her television credits include a recurring role on the Tyler Perry's OWN soap opera series, "If Loving You Is Wrong," Kevin Hart's BET show "Real Husbands of Hollywood" and FOX's "New Girl."

Haddish currently tours all over the world bringing her edgy, unusual take on life & love and tons of laughter, introducing herself by announcing "She Ready" & "The Last Black Unicorn." In the past, Haddish's comedy has landed her on Jenny McCarthy's Dirty Sexy Funny comedy tour and she has made appearances on "The Tonight Show," "Chelsea Lately" and "The Arsenio Hall Show." She was an early stand out since first appearing on HBO's "Def Comedy Jam," Bill Bellamy's "Who's Got Jokes?" for TV One and on Comedy Central's "Reality Bites."

Haddish's journey in life has inspired her comedy and sense of humor on and off stage. Growing up in foster care in South Central Los Angeles, it was her excessive talking and imaginary friends that prompted her increasingly flustered social worker to steer her into standup comedy by enrolling her into the Laugh Factory Comedy Camp for children. One of Tiffany's special passions is performing in a comedy show Chuckles Not Knuckles, a program she developed for inner city high school students that promotes nonviolence. Haddish sees herself as sexy as Halle Berry, as funny as Jim Carrey, raw like Richard Pryor with the comedic timing of Lucille Ball, smooth like Eddie Murphy, Jewish as Whoopi Goldberg and hopes to someday have money like Oprah.


*Ticket Omaha is the official retail ticket outlet for all performances at the Orpheum Theater and the Holland Performing Arts Center. Tickets purchased from other ticket retailers such as secondary ticket agencies or brokers may be more expensive and may not be valid. Due to the nature of live entertainment, all programs, performers, prices, dates and times are subject to change.