Apr 20, 2017, 14:58 PM by Kelly Bartnick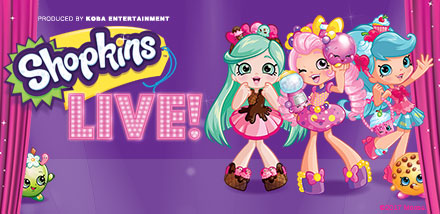 First Ever Theatrical Show Based On #1 Children's Toy Brand Tickets On Sale Friday, April 28
LOS ANGELES, Calif. – (April 20, 2017) – Omaha Performing Arts is excited to announce Shopkins Live!, the first live theatrical production based on the phenomenally successful Shopkins toy brand. The national tour is coming to Omaha's Orpheum Theater at 6:30 PM Monday, November 27, 2017. Tickets go on sale Friday, April 28 at 10:00 AM.

Tickets start at $25 and are available online at TicketOmaha.com, in person at the Ticket Omaha Box Office located inside the Holland Performing Arts Center, 1200 Douglas Street or by phone at (402) 345-0606.

Based on America's #1 toy brand, Youtube sensation and international toy phenomenon created in Australia by Moose Toys, Shopkins Live! will feature The Shoppies and Shopkins characters taking the stage with an all new storyline, original pop music and video highlights as 'Jessicake', 'Bubbleisha', 'Peppa-Mint' and friends prepare for Shopville's annual "Funtastic Food and Fashion Fair".

"Shopkins is literally on every child's wish list," commented Paquin, who also serves as Executive Producer of Shopkins Live! "Koba Entertainment's partnership with an innovative and leading toy manufacturer like Moose Toys allows us to bring one of the most successful toy brands in history to life on stage."

"We are thrilled to have Koba Entertainment presenting our first-ever live theatrical show for Shopkins," added Hardiman. "This will be a fantastic event featuring the Shopkins and Shoppies in an amazing adventure that our North American fans can experience."

Since its launch in 2014, the Shopkins brand continues to be a hot ticket item for children worldwide. Shoppies dolls consistently rank as the #1 kids toy in the U.S.; the first-ever Shopkins movie, Shopkins Chef Club, was released last year by Universal Pictures Home Entertainment; and numerous dedicated apps continue to expand the brand's ever-growing world.

Shopkins Live! will run for approximately 90 minutes, with one 15-minute intermission. For more information on Shopkins Live! call Ticket Omaha at (402) 345-0606 or visit www.shopkinsliveontour.com.

The Shopkins Live! U.S. tour is represented by APA.