Jun 22, 2016, 10:25 AM by Omaha Performing Arts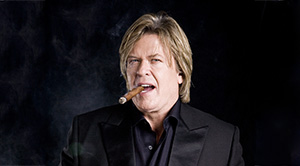 Saturday, July 9, 2016
Tickets On Sale Now!
Omaha, Neb. (June 20, 2016) – Comedian Ron "Tater Salad" White, best known as the cigar smoking, scotch drinking funnyman from the "Blue Collar Comedy" phenomenon returns to Omaha with his new stand-up show, Saturday, July 9, 2016 at 7:00 PM in Slosburg Hall at Omaha's Orpheum Theater, 409 S. 16th St.

Comedian Josh Blue will open for Ron White at this performance. Blue is a winner of NBC's Last Comic Standing. His 2011 special "Comedy Central Presents: Josh Blue," received rave reviews from fans and critics alike. The special was named one of the best for that year on the Comedy Central Network. He has appeared twice on the "Ron White's Comedy Salute to the Troops" and has been featured on a number of TV shows.

Tickets, starting at $46.75, are currently on sale through Ticket Omaha by phone at 402.345.0606, online at TicketOmaha.com or in-person at the Ticket Omaha office inside the Holland Performing Arts Center at 13th and Douglas Streets. This program is for mature audiences.

Ron White has achieved three Grammy® nominations, a Gold Record, two of the top rated one-hour specials in Comedy Central history, a book that appeared on the New York Times Best Seller List, and CD and DVD sales of over 10 million units.